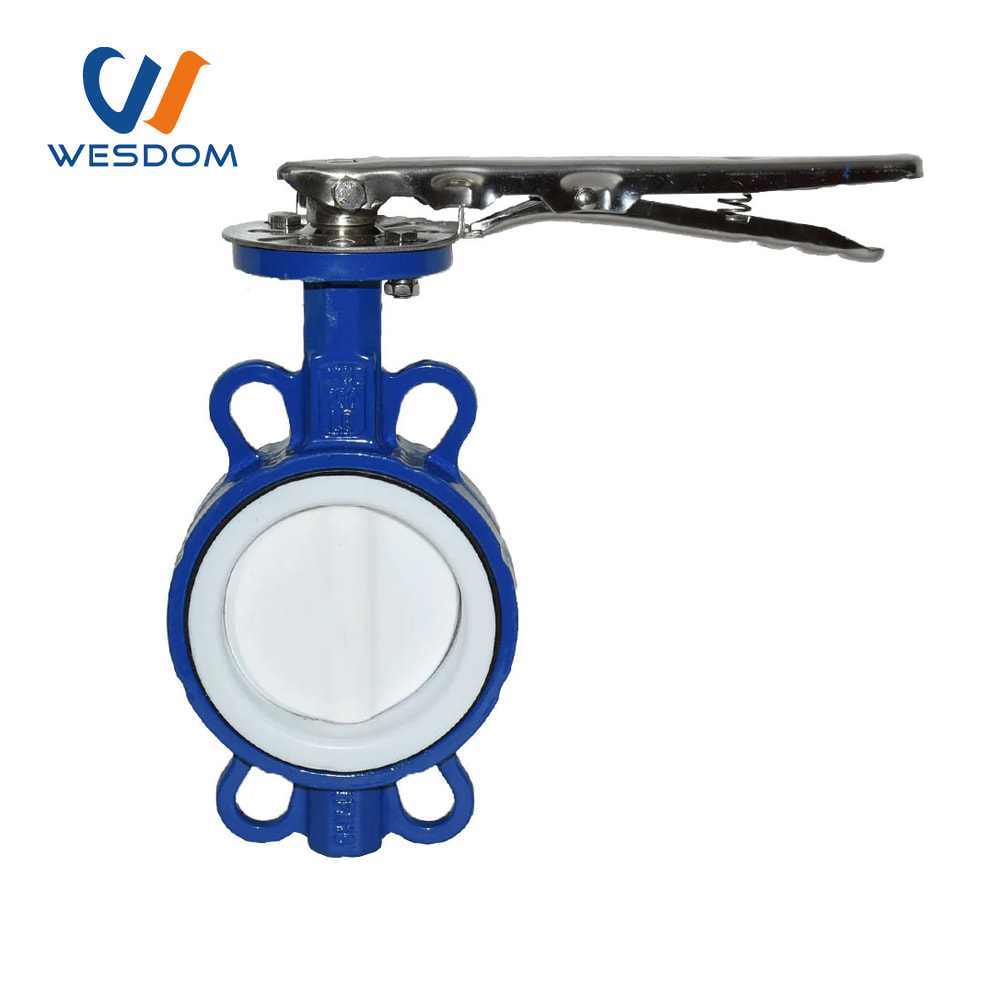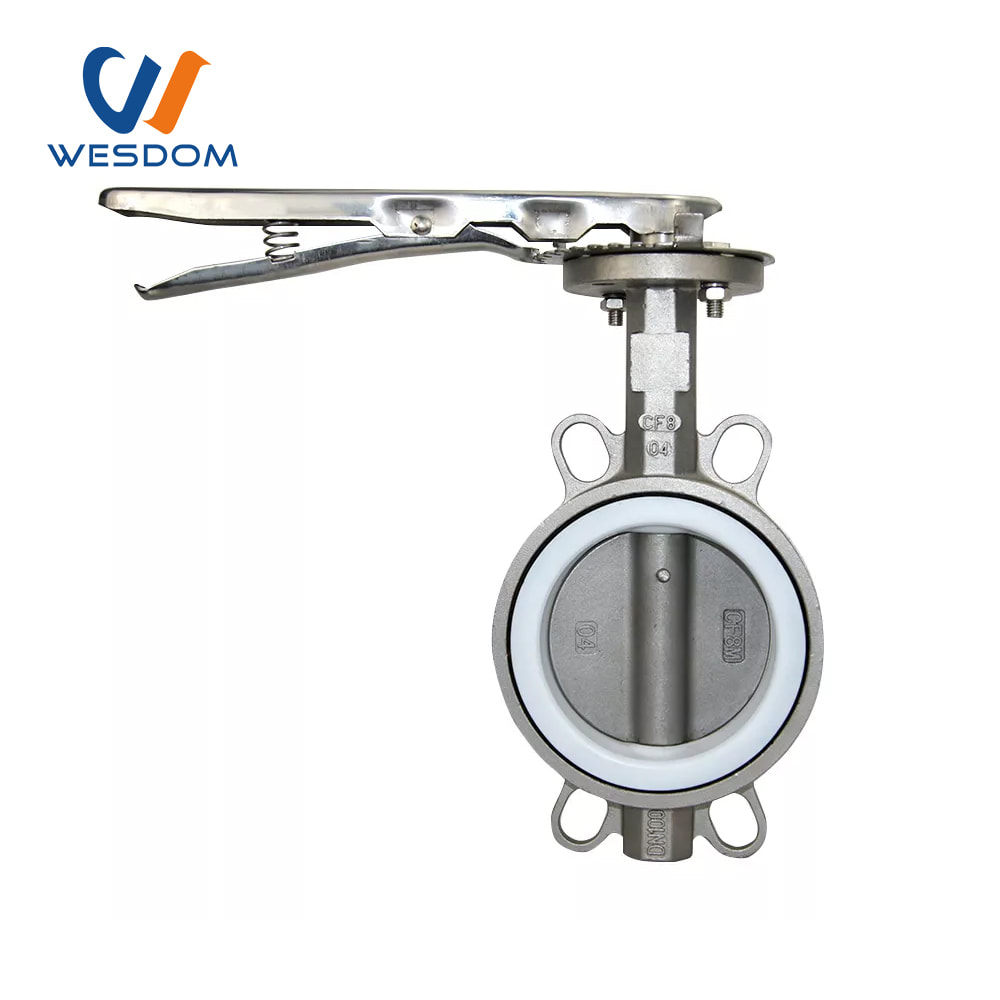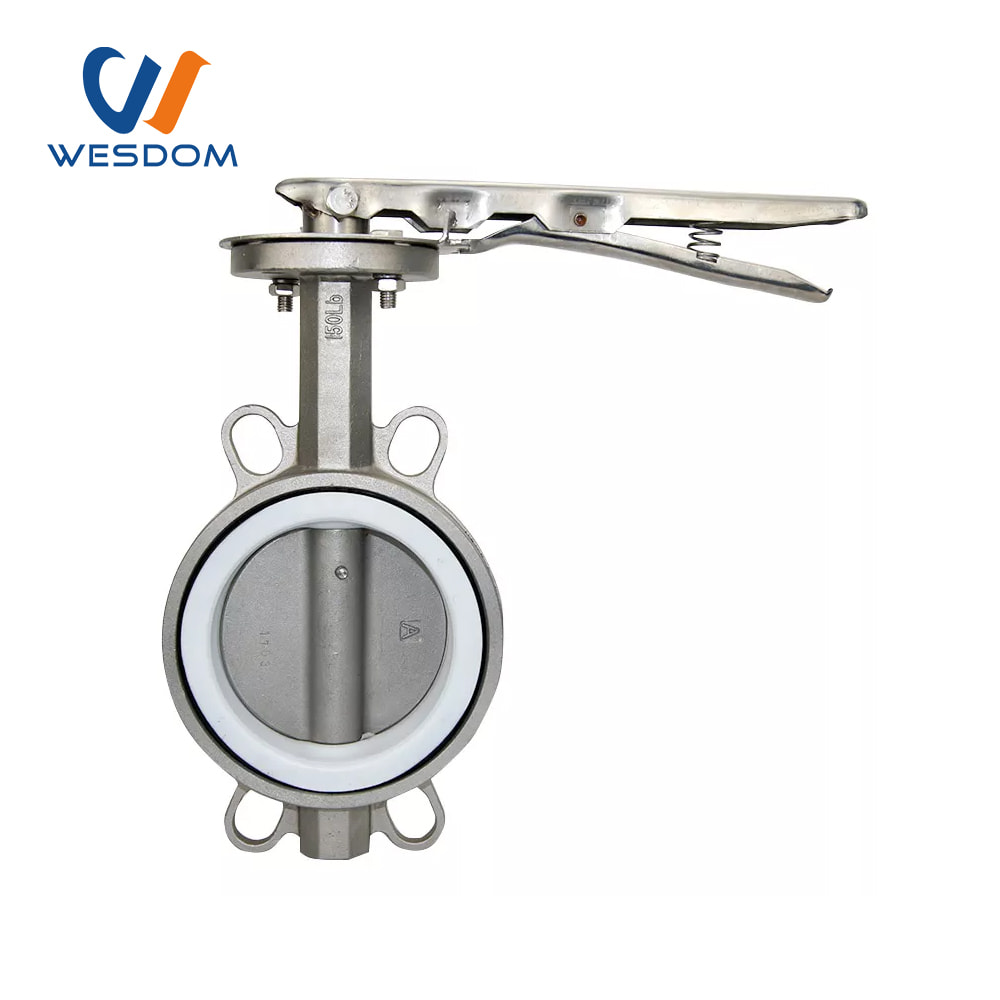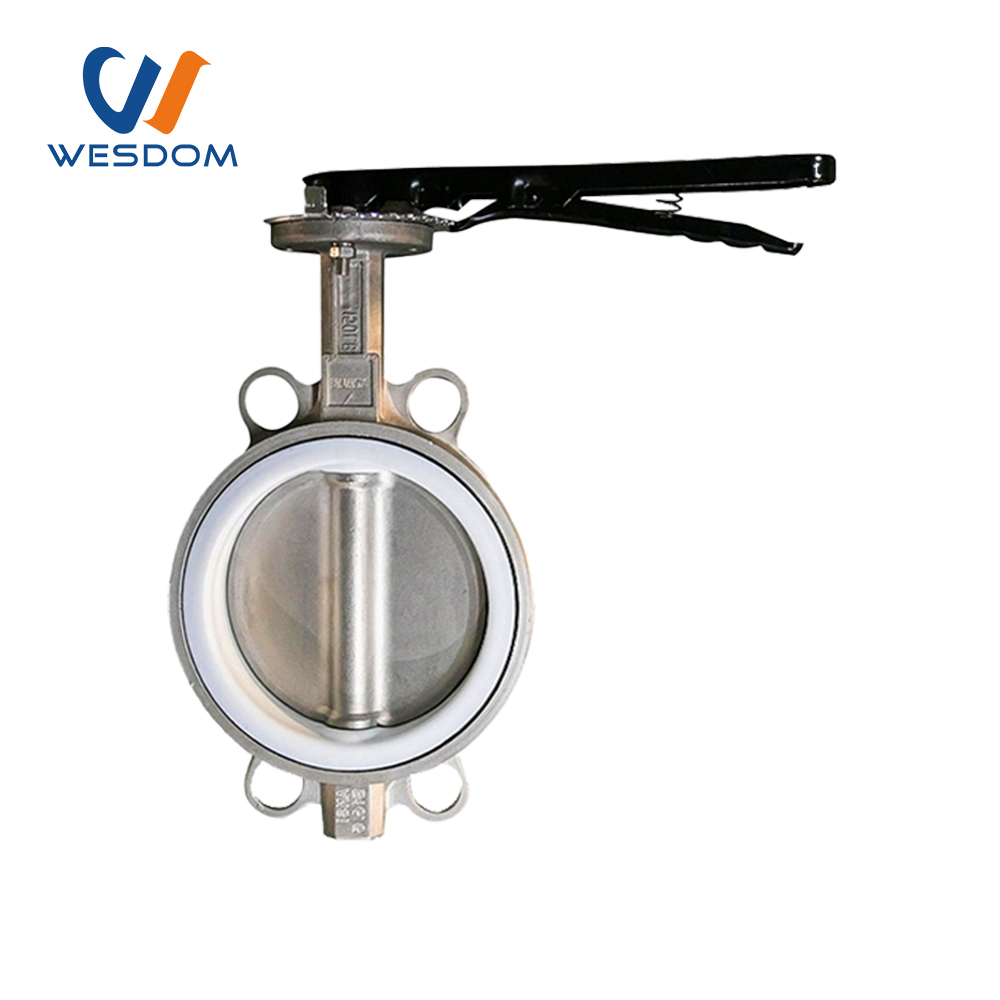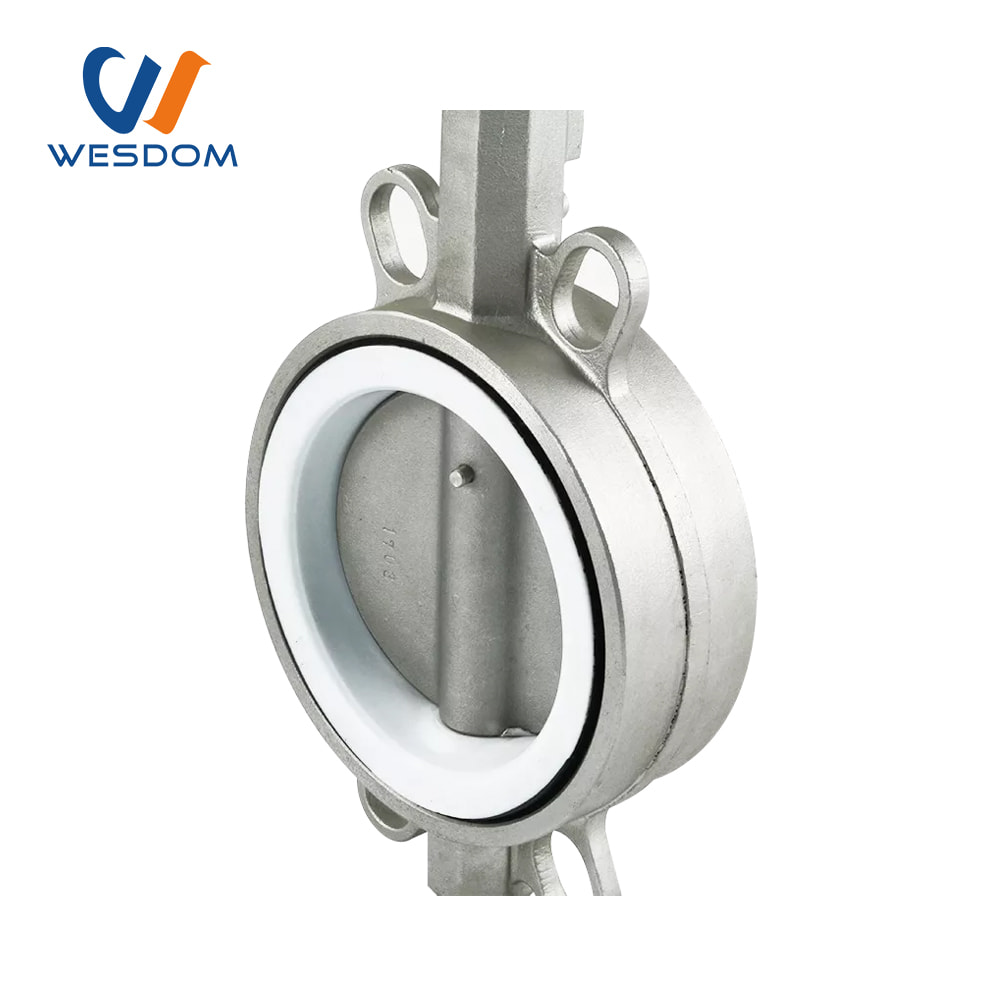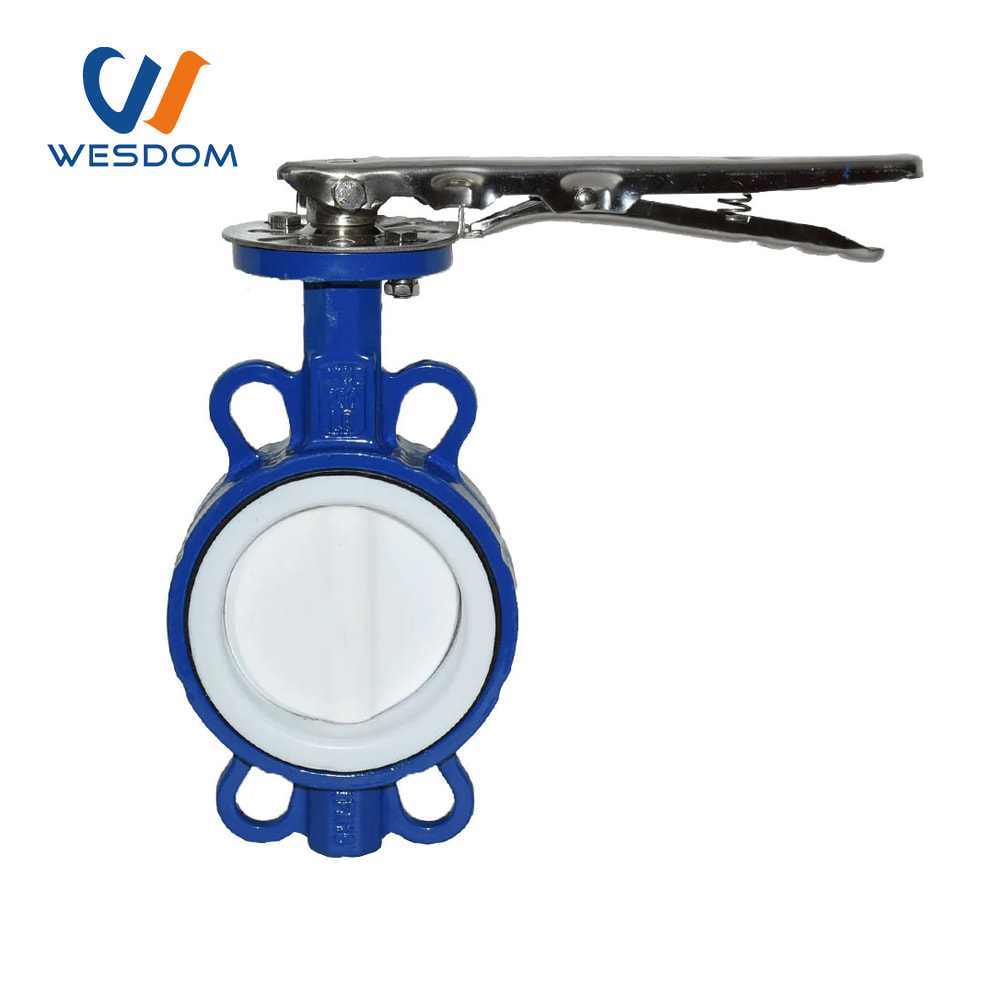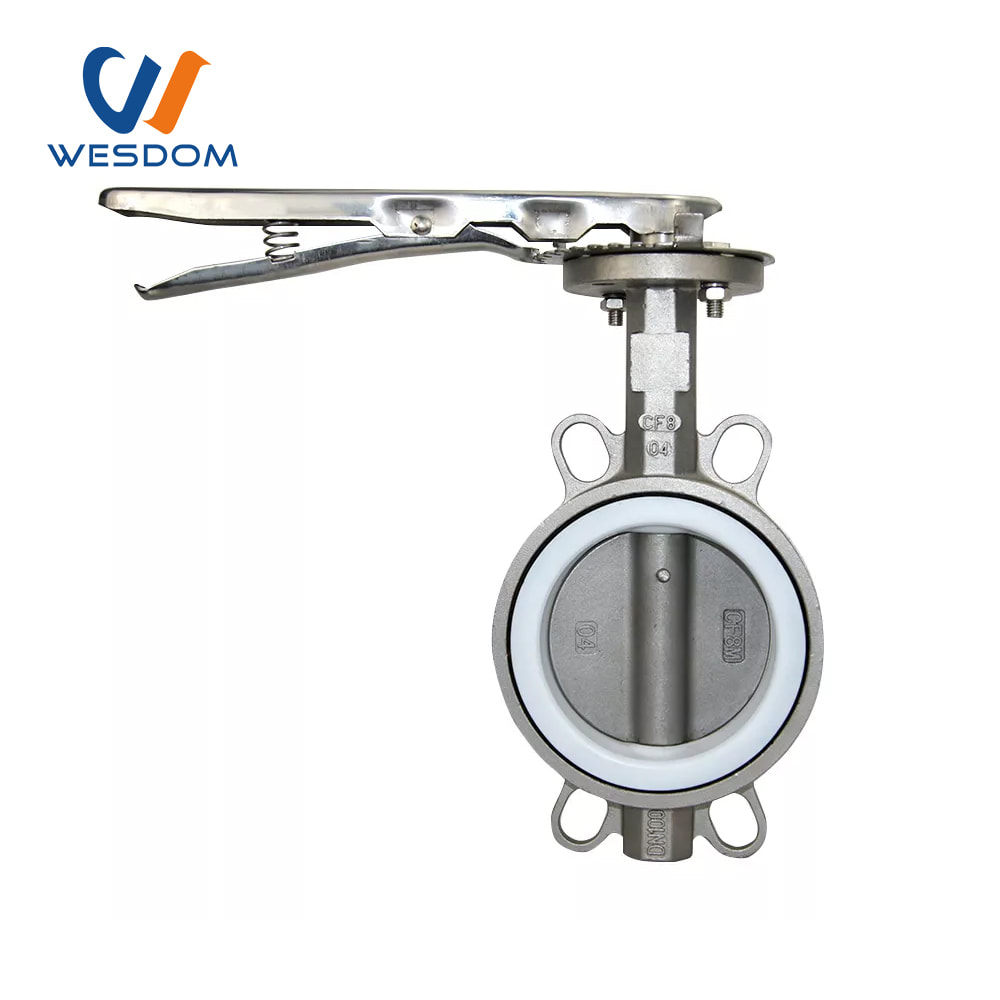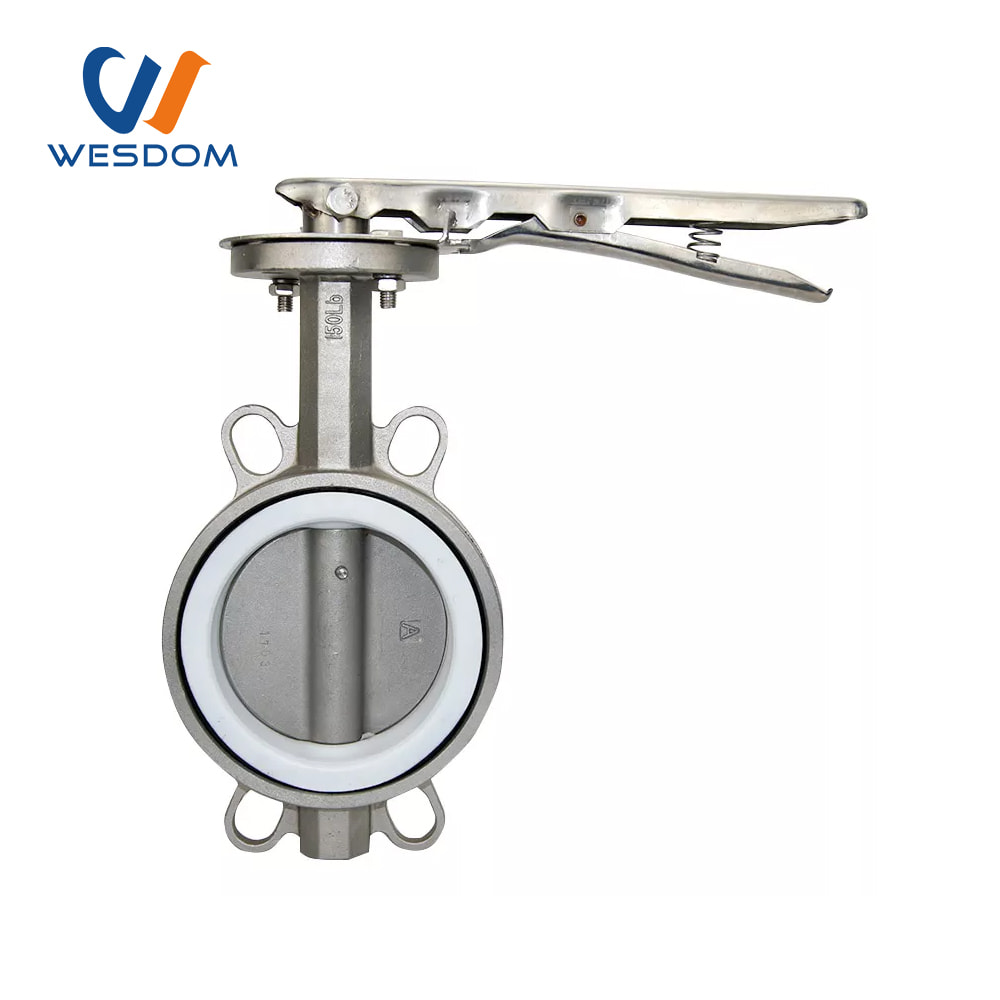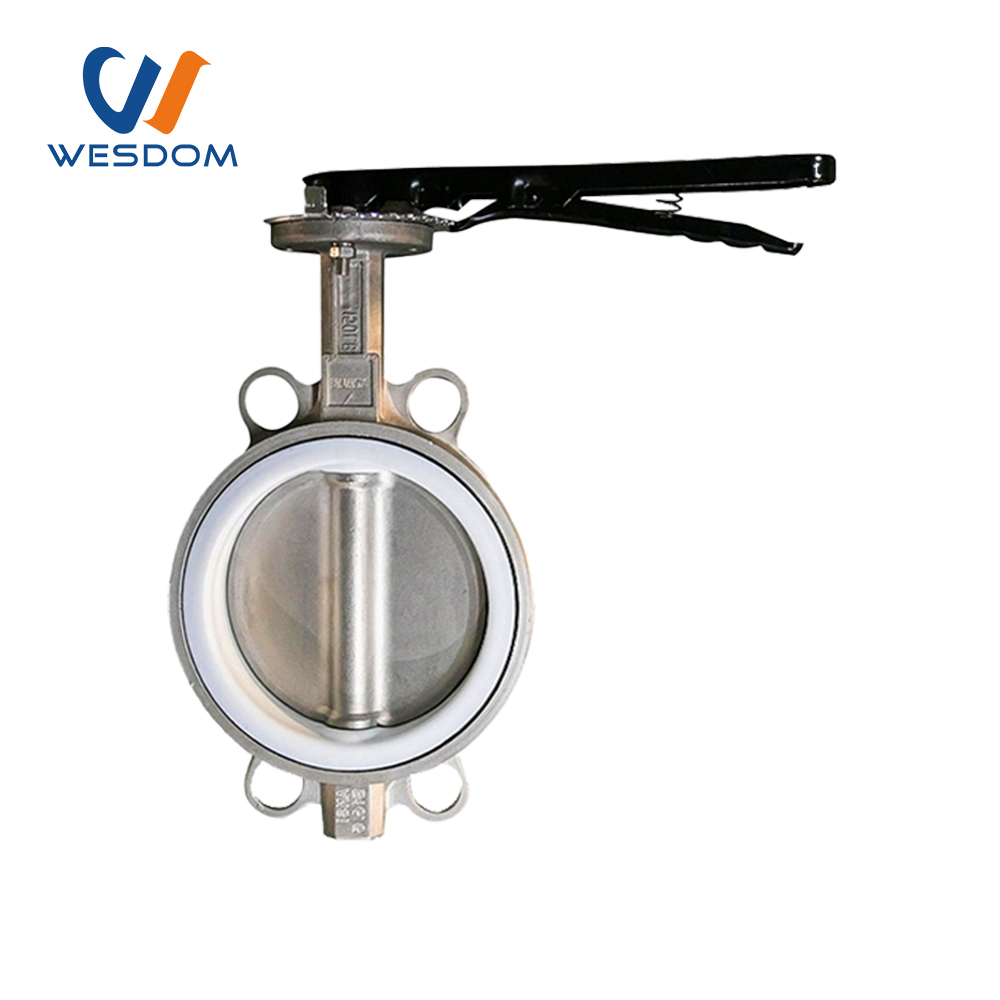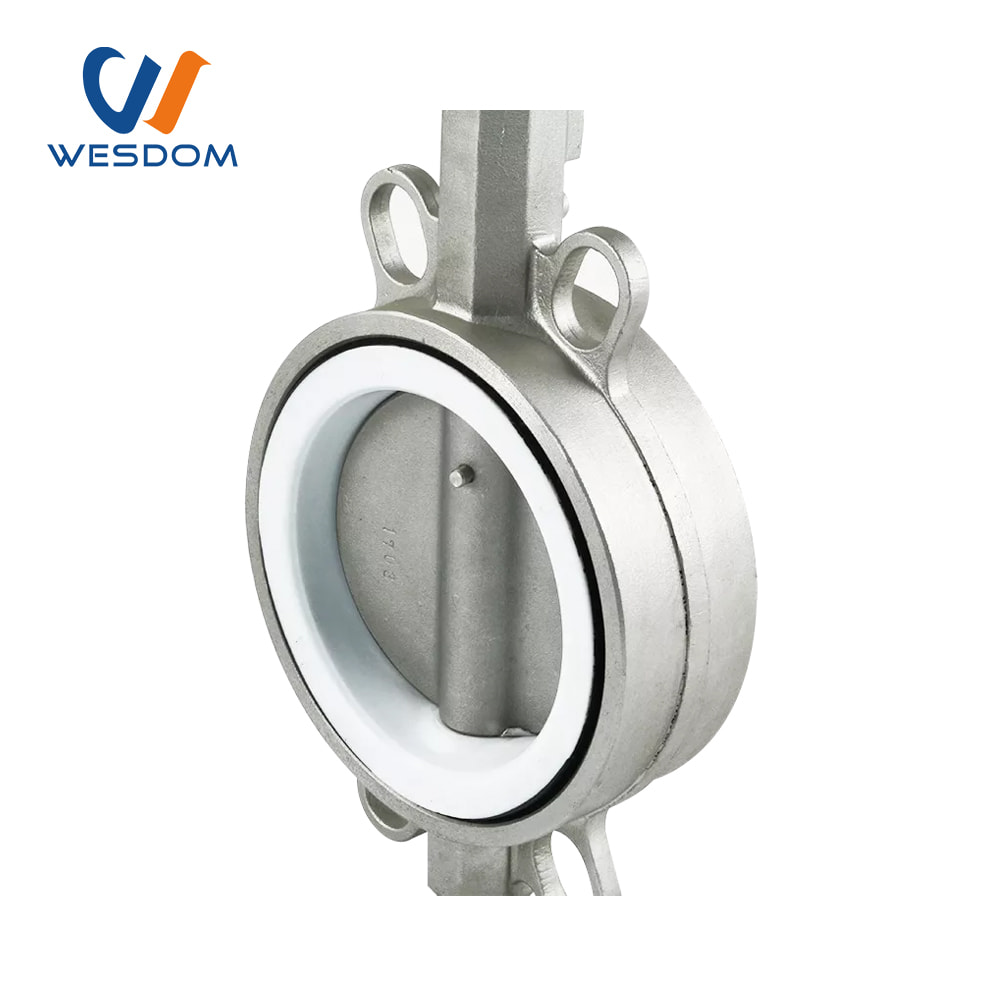 ANSI Wafer PTFE seat butterfly valve
Size scope: DN50-DN300
Design standard: API609, ANSI16.34, JISB2064, GB T12238
Test Inspection: API598
Working temperature: NBR O-70℃. EPDM o-80℃
Working pressure: PN10/16, 150-300LB
Suitable medium: Chemicals, air, water, steam, oil, acids, salts ect
Product Introduction
A wafer PTFE seat butterfly valve is a type of butterfly valve that uses a wafer-style body design with a polytetrafluoroethylene (PTFE) seat. This valve is used to regulate or control the flow of various types of liquids, gases, and slurries in a variety of industries, including chemical processing, water treatment, and food and beverage production. The PTFE seat provides excellent chemical resistance, high-temperature tolerance, and low friction, making it an ideal material for use in harsh environments with corrosive or abrasive substances. The wafer design allows for easy installation and removal of the valve, and the butterfly disc provides a low-profile design that minimizes turbulence and pressure drop in the pipeline.
Why choose us!
WESDOM patent products, patent certification

The product side flanges comply with national, German, Russian, American, British and Japanese standards and other domestic and international standards

for multiple pressures, easy connection and wide adaptability, which can reduce the type of purchase and stock.

W

The product has an independent identity to ensure traceability

Each wesdom product has its own unique identification number, to ensure product traceability.

E

Provide material inspection report

All wesdom products can provide the material inspection report of the main parts.

S

One-stop service

One-stop service, we not only supply high quality products, also supply solutions and after-sales service.

D

WESDOM has a lot of project experience

We have a lot of project experience in countries such as Pakistan and the Philippines, WESDOM has always been noticed all over the world, and trust comes from quality.

O

WESDOM has a strict quality control system

WESDOM has a strict quality control system and before delivery, we test 100% of each product to ensure its quality, promising you a high quality product.

M
Standard Test

Factory Tour
WESDOM GROUP consists of 5 factories and 4 overseas branches. The five factories are mainly located in Tianjin, Hebei, Shandong, Lianyungang and Wenzhou. The four foreign branches are located in Tanzania, Zambia, Kenya and Indonesia.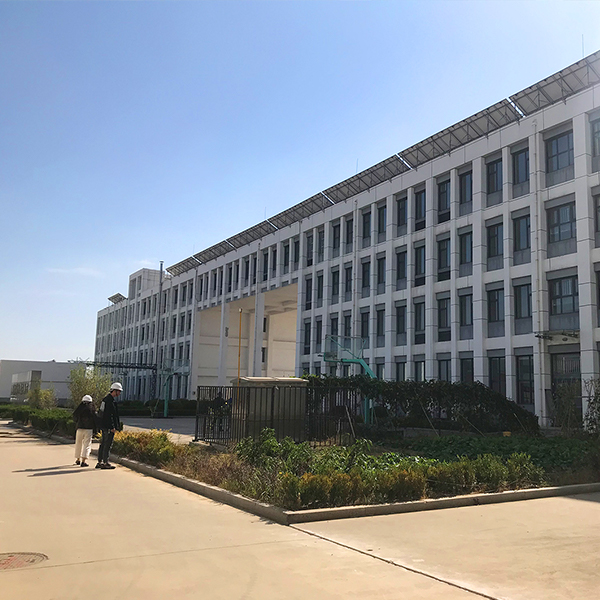 Factory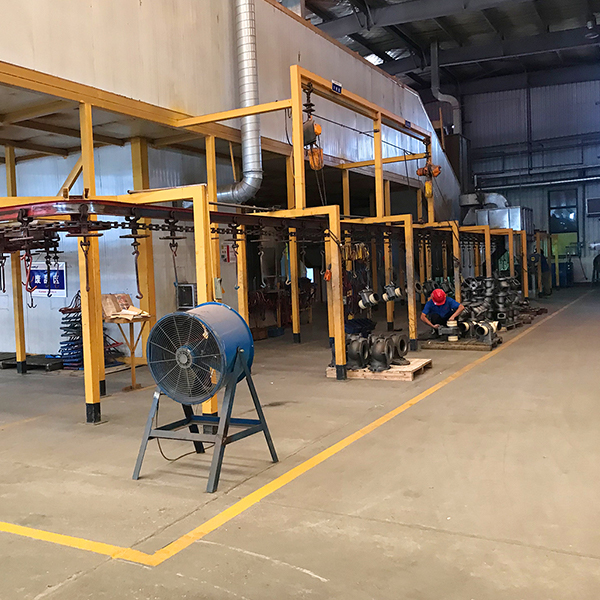 Workshop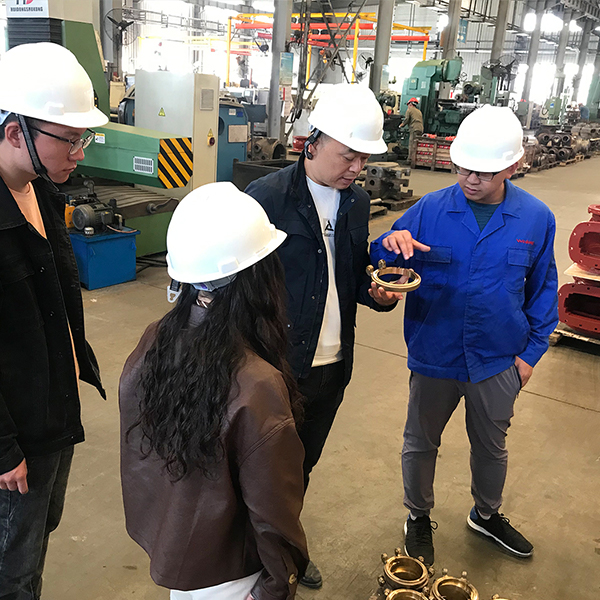 Quality inspection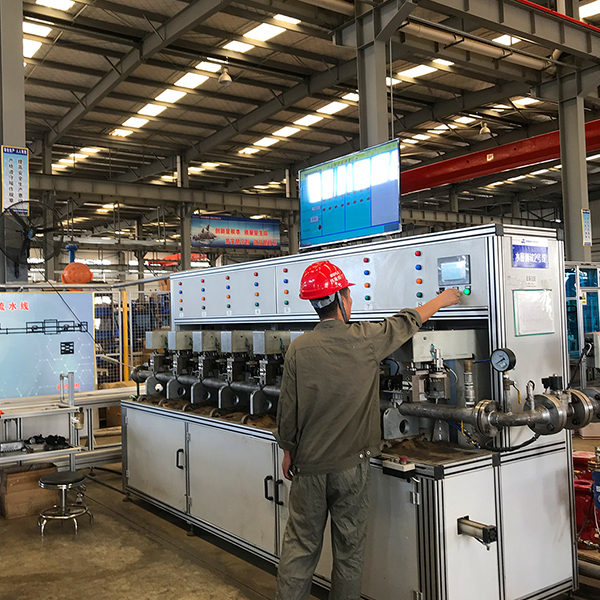 Workshop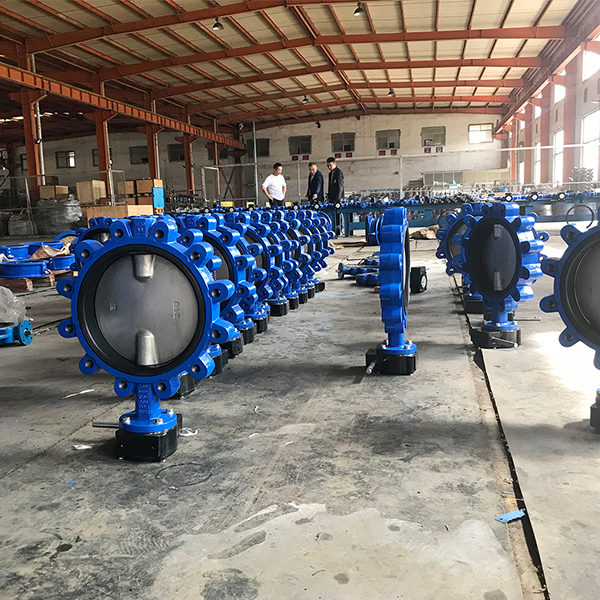 Product show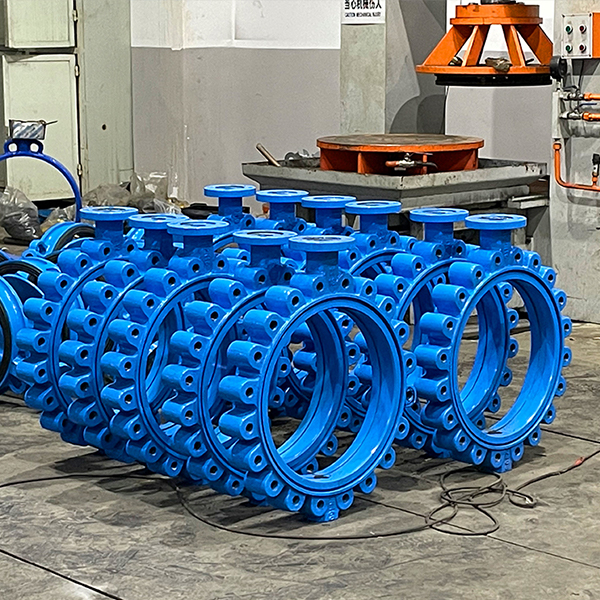 Product show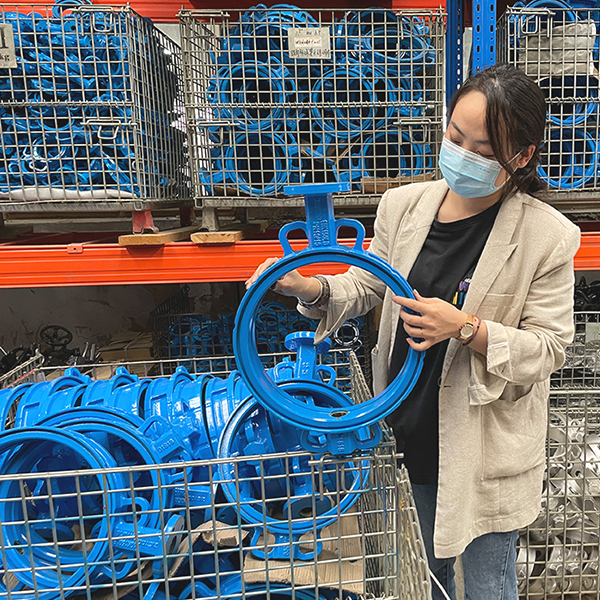 Workshop
Detailed parameters

A
B
ANSI 150B
DIN PN 10
DIN PN 16
JIS 10K
øK
N-ød
øK
N-ød
øK
N-ød
øK
N-ød
67
141
98.5
4-ø16
110
4-ø18
110
4-ø18
105
4-ø19
67
141
120.6
4-ø19
125
4-ø18
125
4-ø18
120
4-ø19
75
151
139.7
4-ø19
145
4-ø18
145
4-ø18
140
4-ø19
95
160
152.4
4-ø19
160
8-ø18
160
8-ø18
150
8-ø19
111
180
190.5
8-ø19
180
8-ø18
180
8-ø18
175
8-ø19
129
193
215.9
8-ø22.4
210
8-ø18
210
8-ø18
210
8-ø23
142
207
241.3
8-ø22.4
240
8-ø22
240
8-ø22
240
8-ø23
170
240
298.4
8-ø22.4
295
8-ø22
295
12-ø22
190
12-ø23
206
270
361.9
12-ø25.4
350
12-ø22
355
12-ø22
355
12-ø25
238
316
431.8
12-ø25.4
400
12-ø22
410
12-ø26
400
16-ø25

Advantages of wesdom butterfly valve!
The thickness of valve body wall is up to standard

The valve body wall thickness meets the requirement of GB 26640, the thickness is up to the standard, and the pressure strength is guaranteed.

W

Valve body/valve plate is made of QT450-10 material

Valve body valve plate is made of qt450-10 material with spheroidization rate above grade 3, tensile strength of 450Mpa and elongation of >10%.

E

Good sealing and long service life of  valve seat

The valve seat is made of imported rubber material, with more than 50% rubber content; Elongation at break greater than 350%, valve sealingreliable, long

life.

S

Soft back with wide side seat

Soft backrest wide side valve seat, is advantageous to the valve installation, in the pipeline and flange boss contact surface is wide, sealing performance

is reliable. Life is longer than a hard back. And easy to remove and replace.

D

No pin structure to avoid corrosion

Butterfly plate and valve shaft adopt through shaft without pin structure to avoid leakage caused by hole mounting pin and accelerated corrosion caused

by coating damage.

O

Valve body is sprayed with Aksu epoxy powerd

The valve body is sprayed with world-renowned Aksu epoxy resin powder, which has stronger adhesion and better environmental tolerance after melting and curing.

M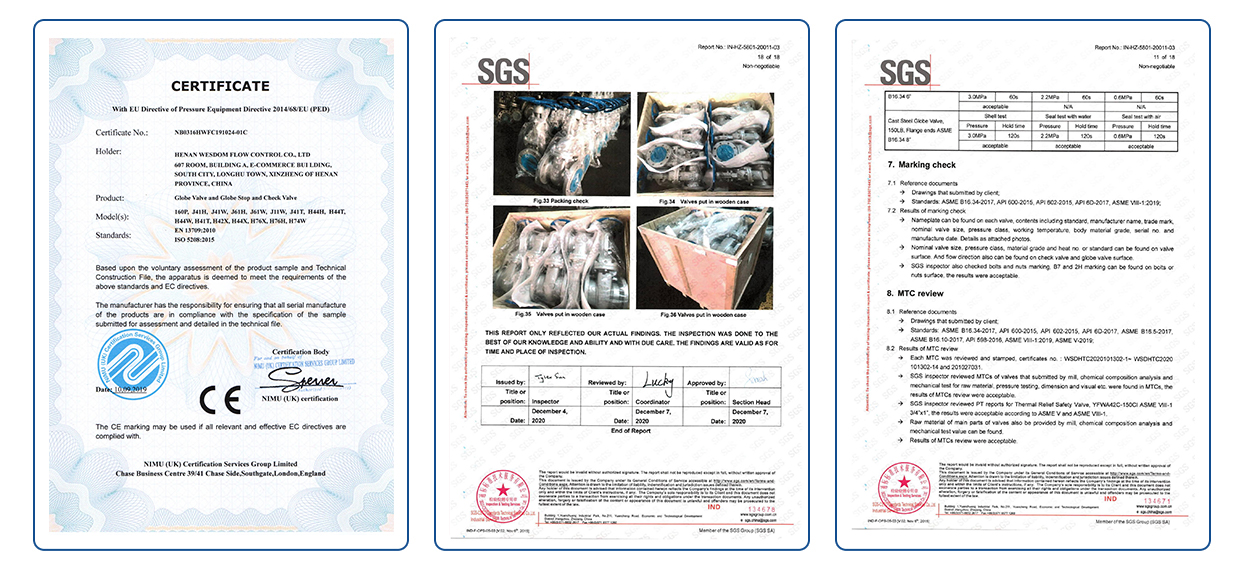 Project Name: Famous Textile Factory Project in Pakistan
Main products: flow meters and SS valves
Project Description:
This is a relatively special case. Because the customer know less about valves, but the demand is very large. So WESDOM assigns a professional team (salesmen and engineers from the International Trade Department) to conduct on-site inspections and give customer some Pertinent suggestions, and this customer are very shocked and moved by our service, and have established a long-term cooperative relationship with us without hesitation;
Project Pictures: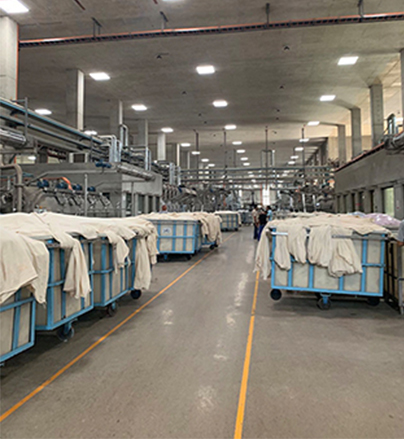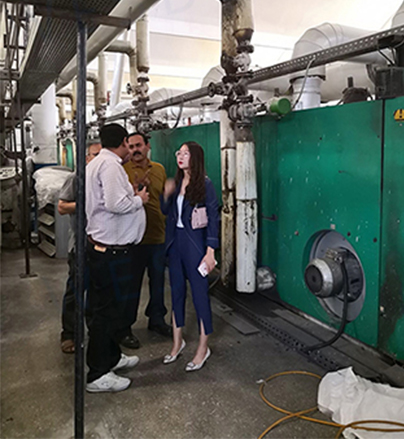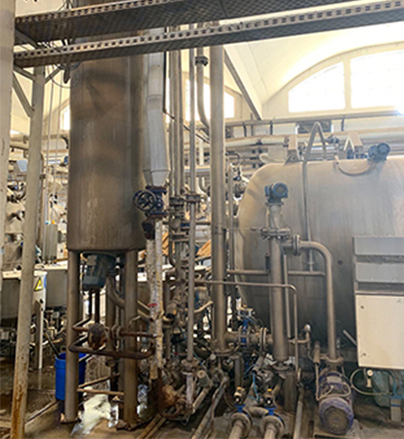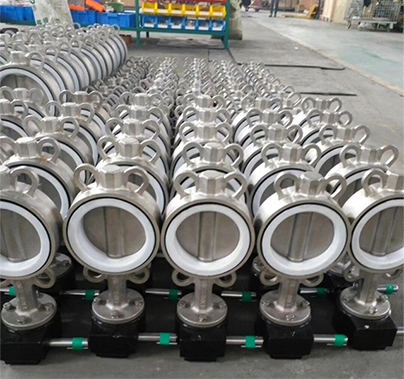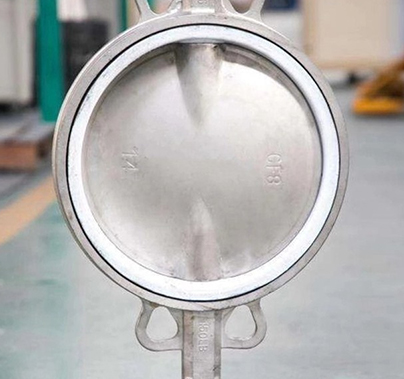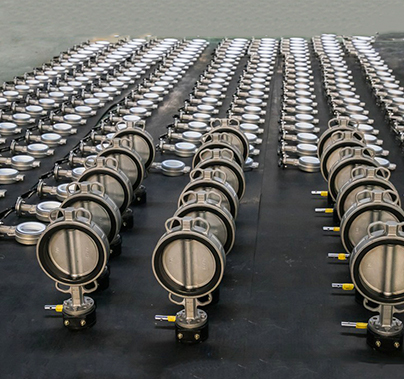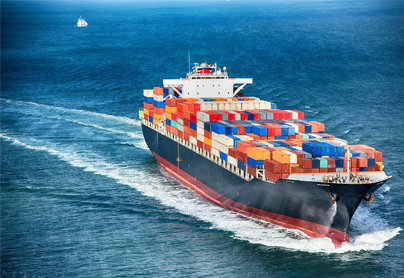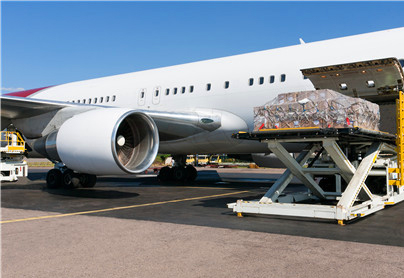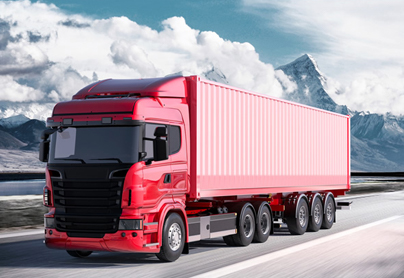 Inquiry
If you have any questions, feedback or comments, please fill out the form below and we will reply you back as soon as possible.