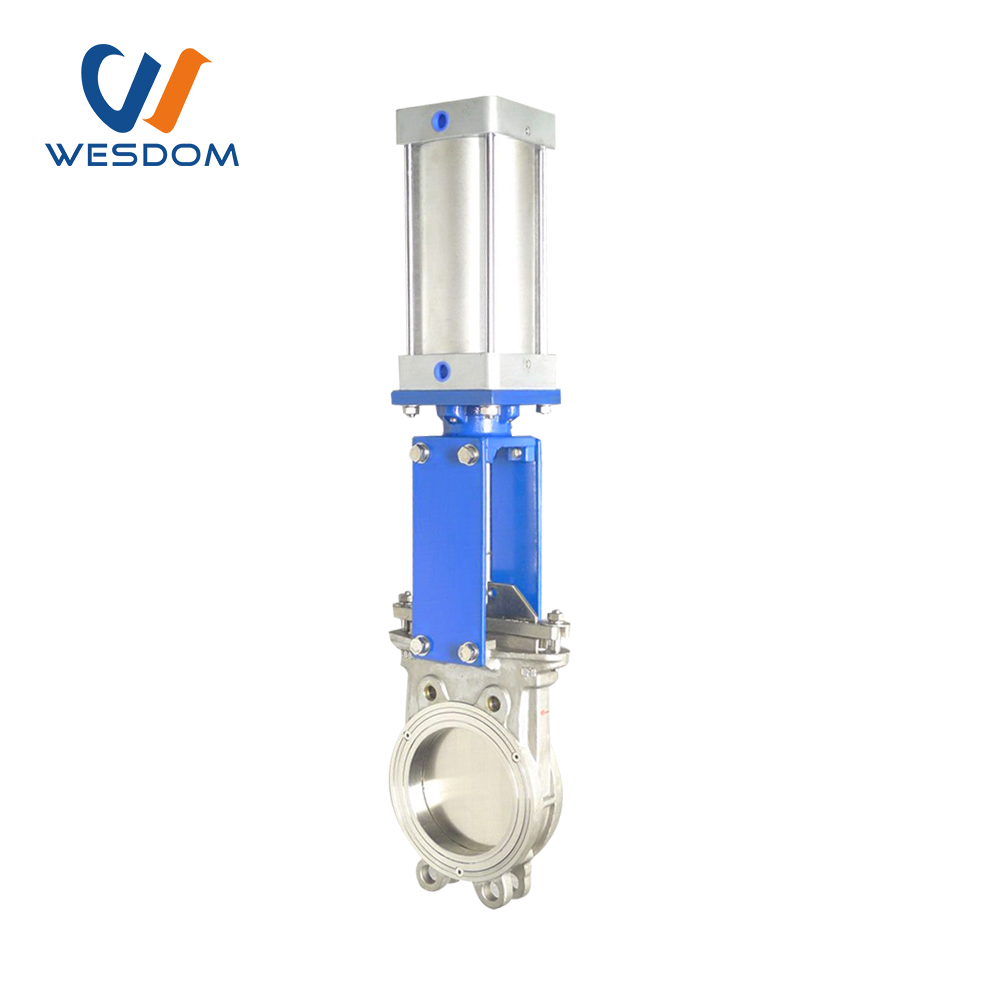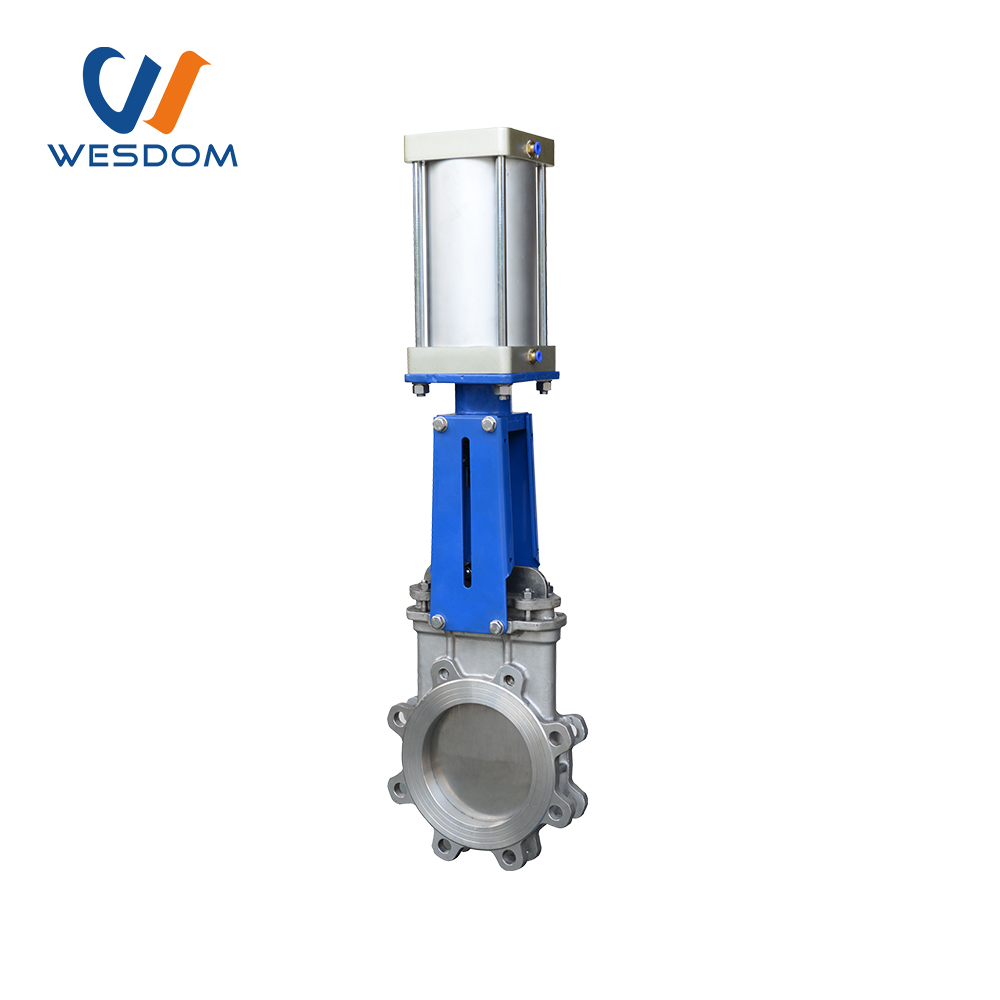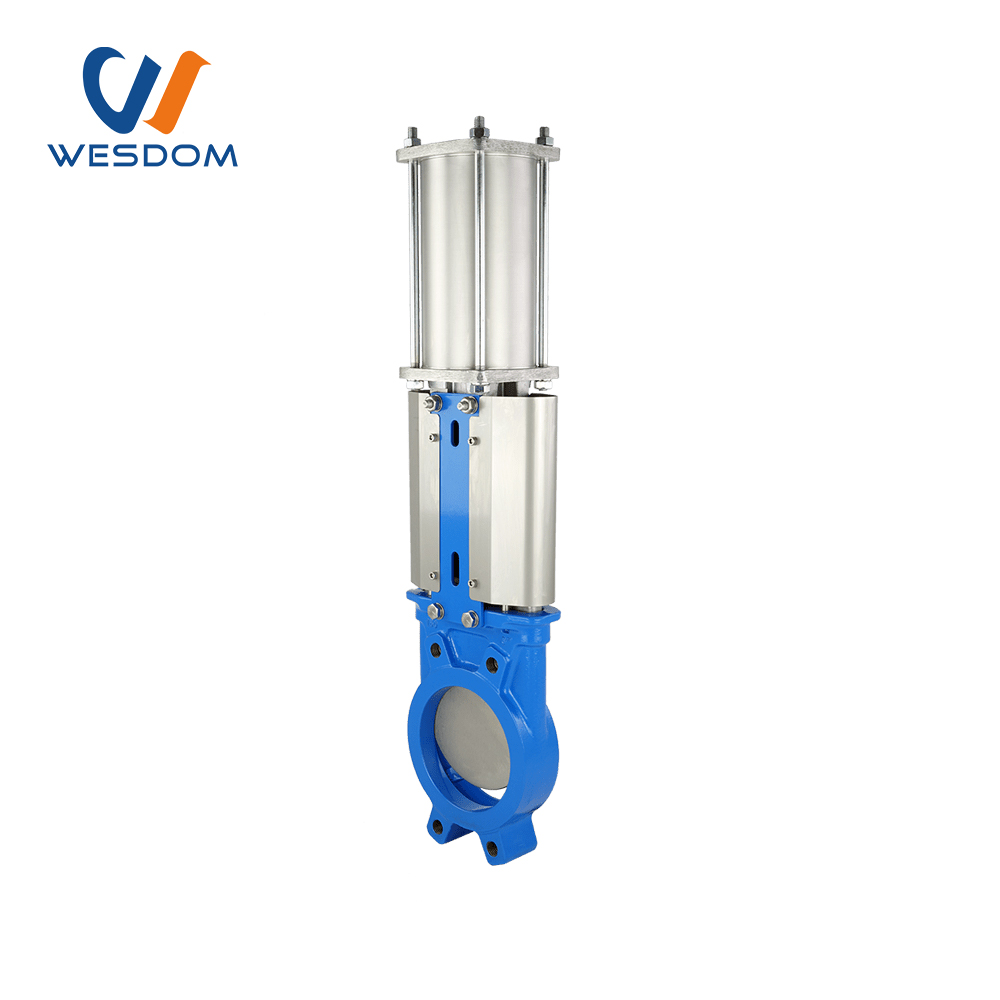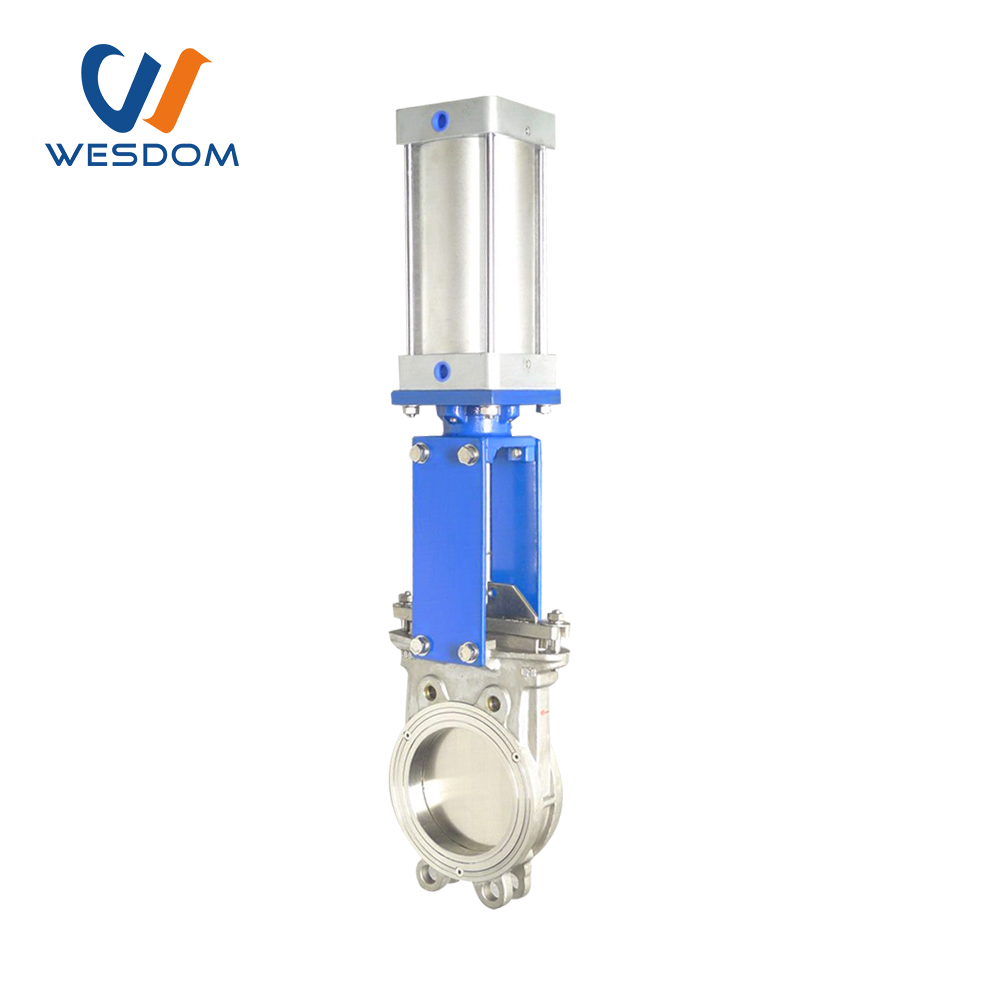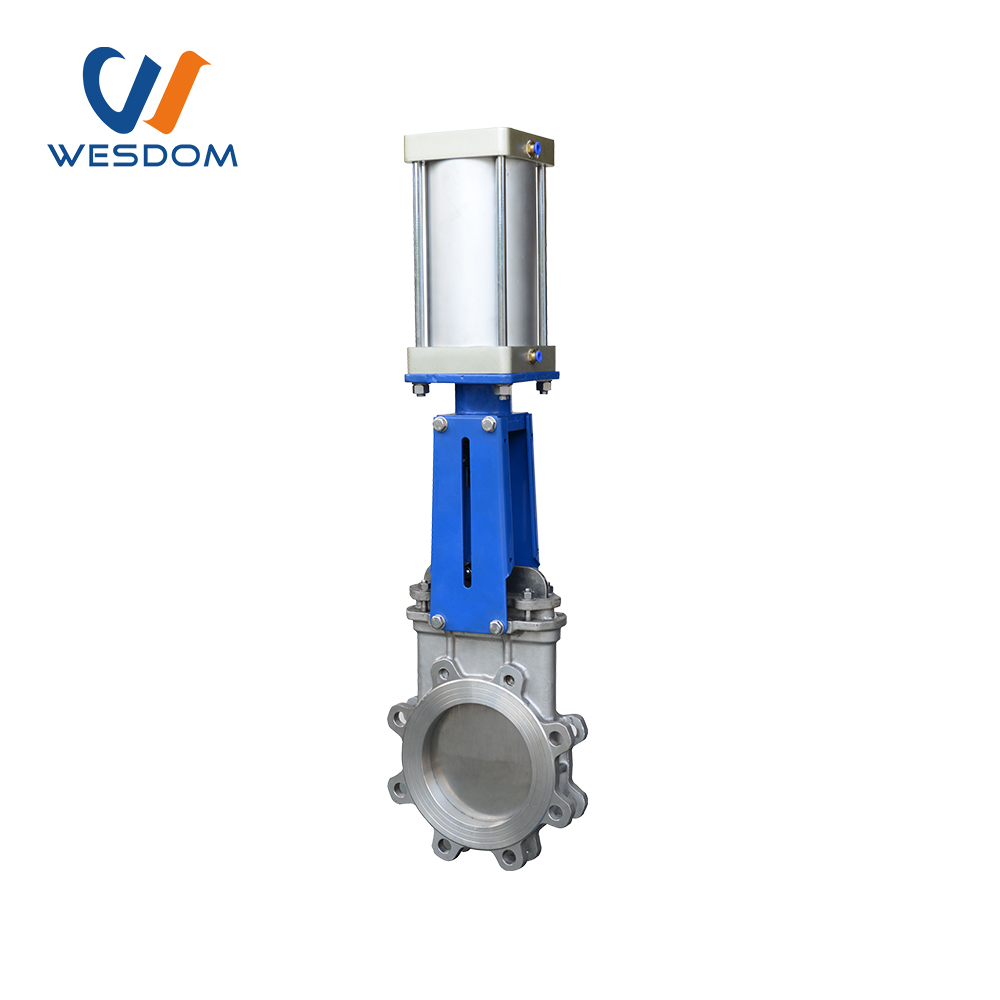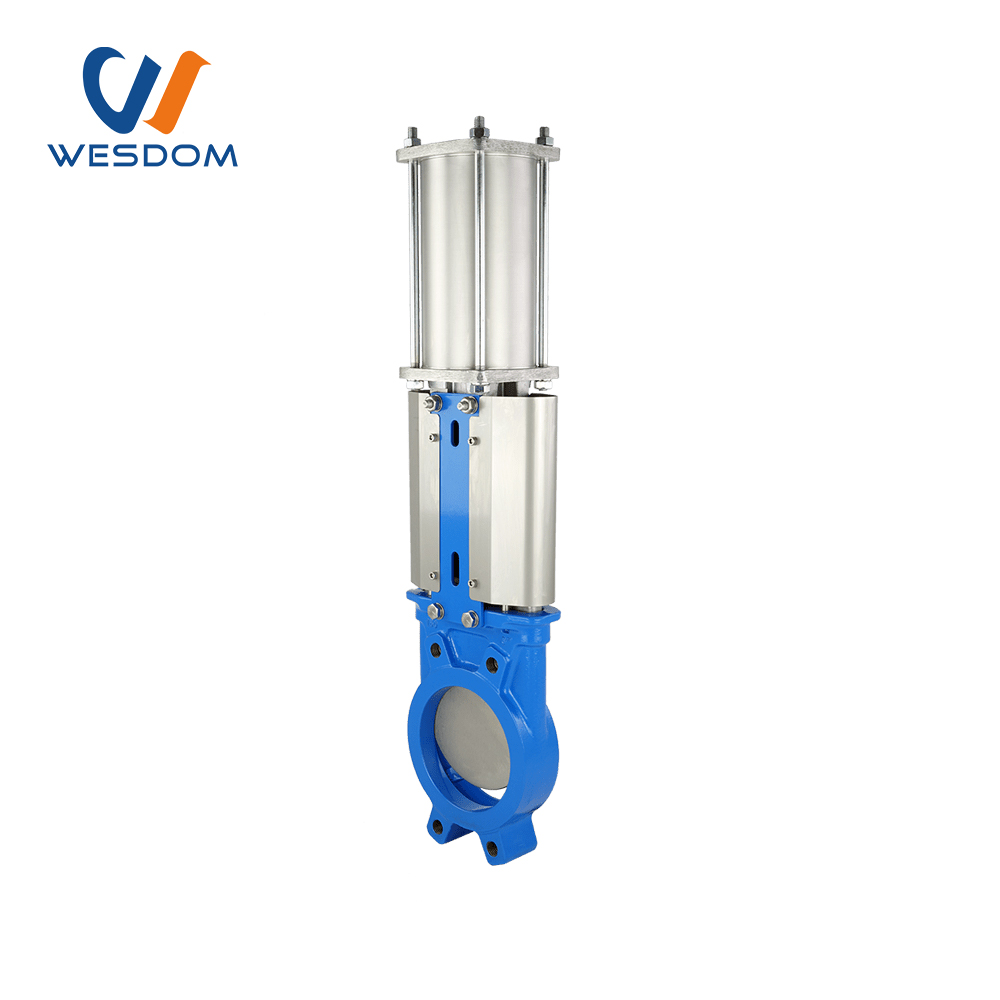 Pneumatic knife gate valve
Size: DN50-900
Pressure: PN10,PN16,150LB
Suitable temperature: -38~+900℃
Seal type: Hard seal, soft seal
Media: Slurry、Powder、Fiber
Connecting flange: ANSI B16.5、GB/T9113、JB/T79、HG、SH、JIS、DIN、NF、BS
Host materials: WCB、ZG1Cr18Ni9Ti、ZG1Cr18Ni12Mo2Ti、CF8、CF8M、CF3、CF3M
Product Introduction
Pneumatic knife gate valve is a kind of valve that uses pneumatic devices to promote the blade switch. It is usually composed of pneumatic execution mechanisms, air distribution valves, solenoid valves, and manual control devices. It uses compressed air, airflow or air pressure to push the piston and piston rods in the pneumatic execution mechanism, and then drive the driver to rotate or promote the turnover, close, or adjust the traffic.
Why choose us!
WESDOM patent products, patent certification

The product side flanges comply with national, German, Russian, American, British and Japanese standards and other domestic and international standards

for multiple pressures, easy connection and wide adaptability, which can reduce the type of purchase and stock.

W

The product has an independent identity to ensure traceability

Each wesdom product has its own unique identification number, to ensure product traceability.

E

Provide material inspection report

All wesdom products can provide the material inspection report of the main parts.

S

One-stop service

One-stop service, we not only supply high quality products, also supply solutions and after-sales service.

D

WESDOM has a lot of project experience

We have a lot of project experience in countries such as Pakistan and the Philippines, WESDOM has always been noticed all over the world, and trust comes from quality.

O

WESDOM has a strict quality control system

WESDOM has a strict quality control system and before delivery, we test 100% of each product to ensure its quality, promising you a high quality product.

M
Quality Control Process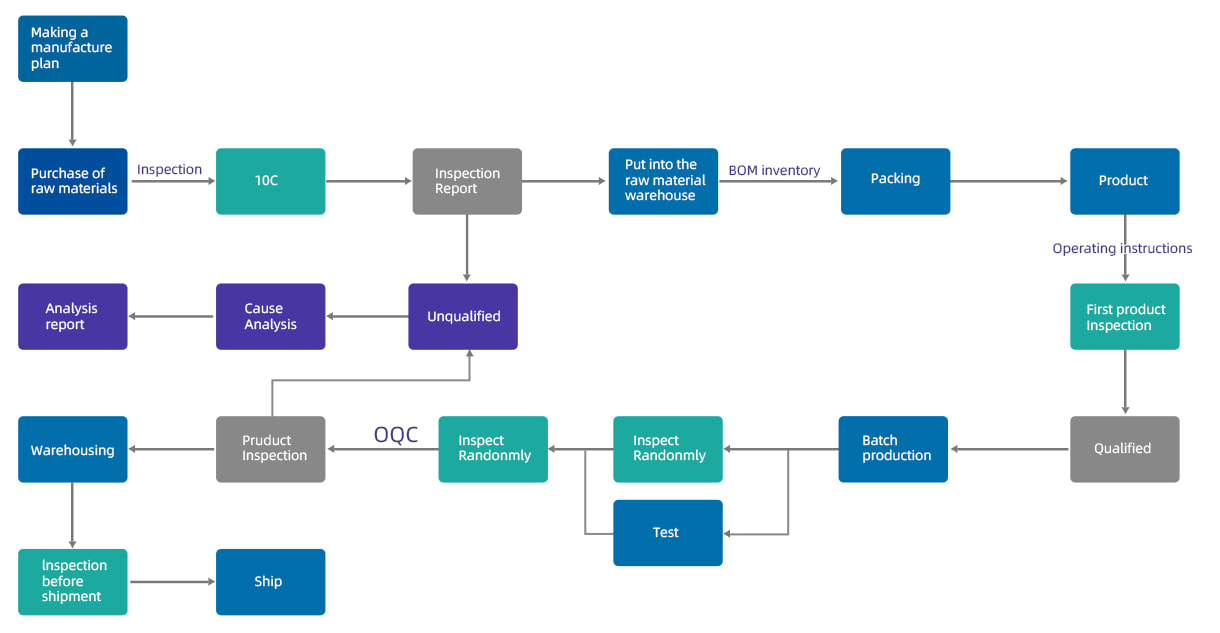 Standard Test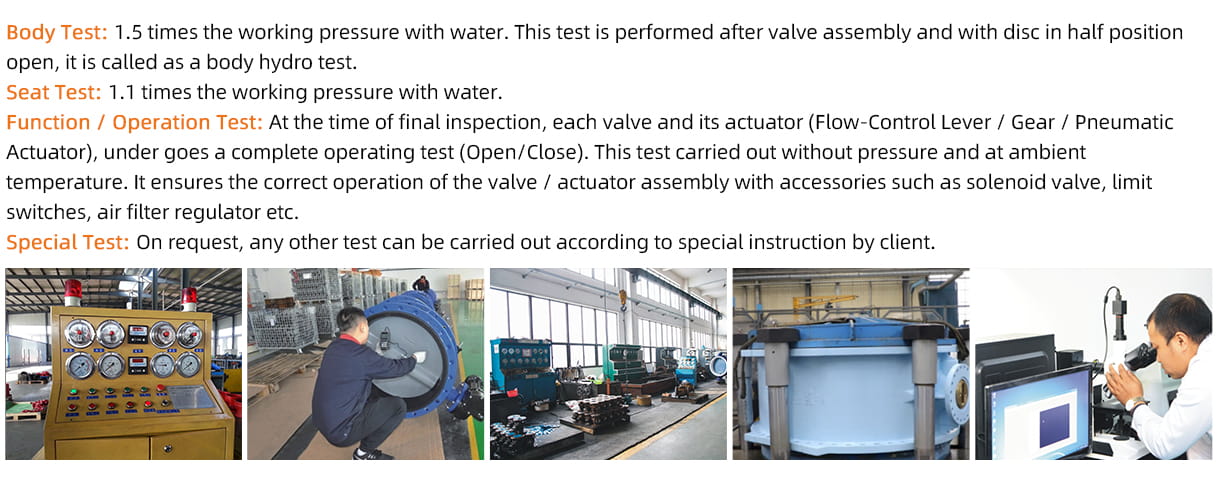 Factory Tour
WESDOM GROUP consists of 5 factories and 4 overseas branches. The five factories are mainly located in Tianjin, Hebei, Shandong, Lianyungang and Wenzhou. The four foreign branches are located in Tanzania, Zambia, Kenya and Indonesia.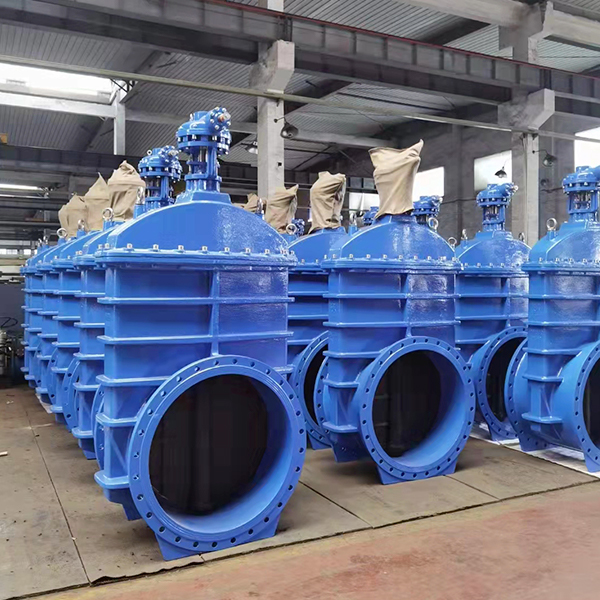 Factory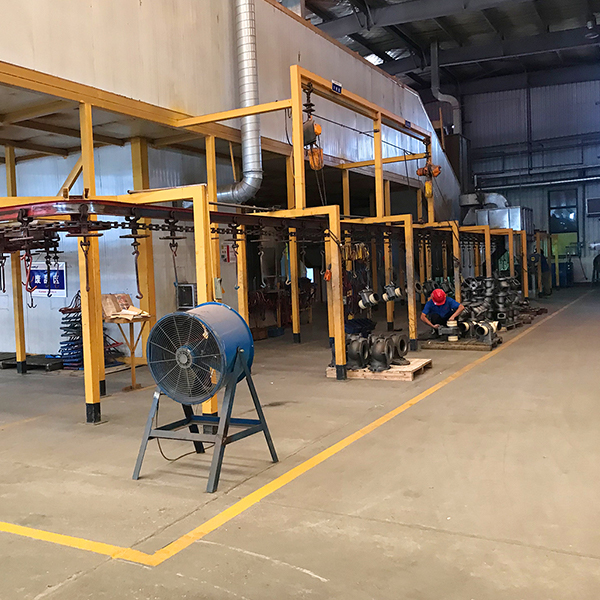 Workshop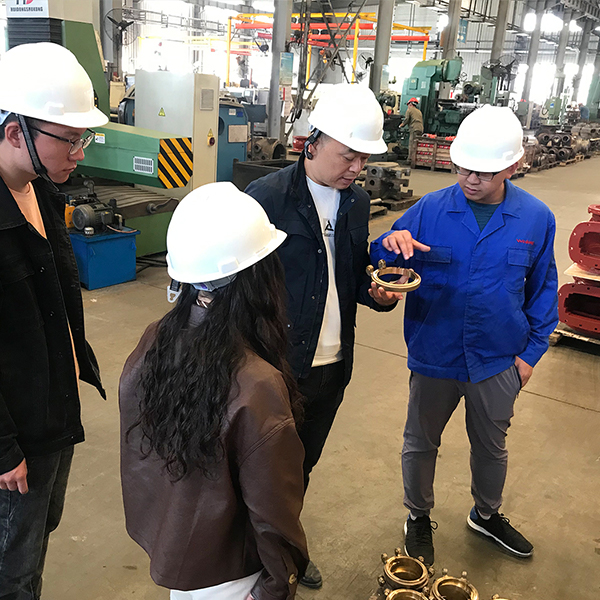 Quality inspection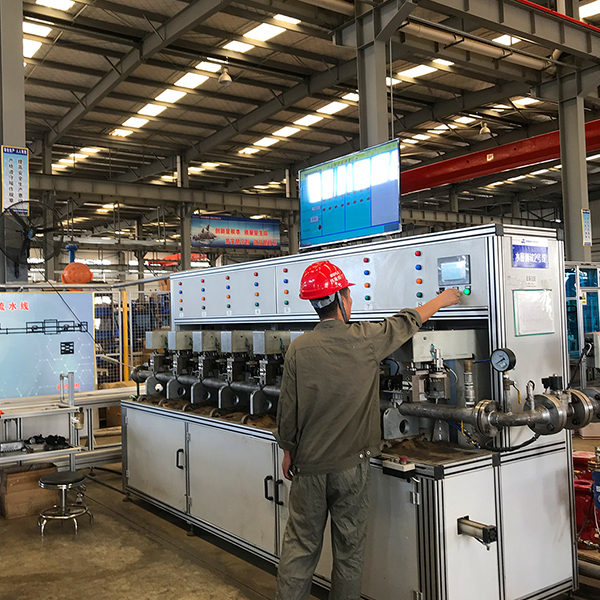 Workshop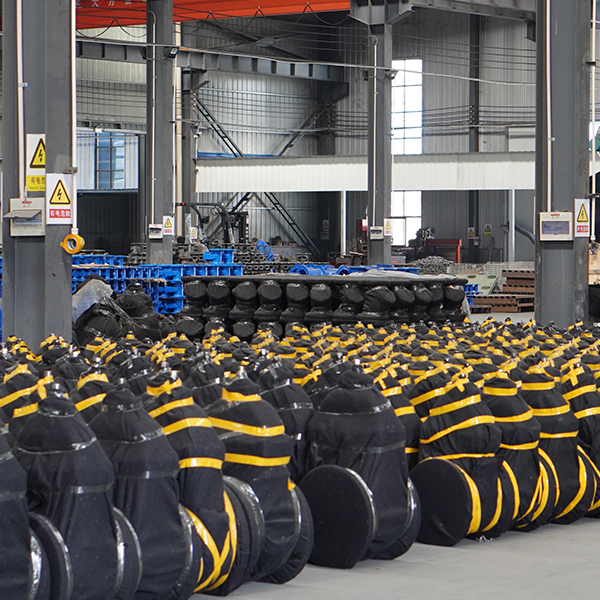 Product show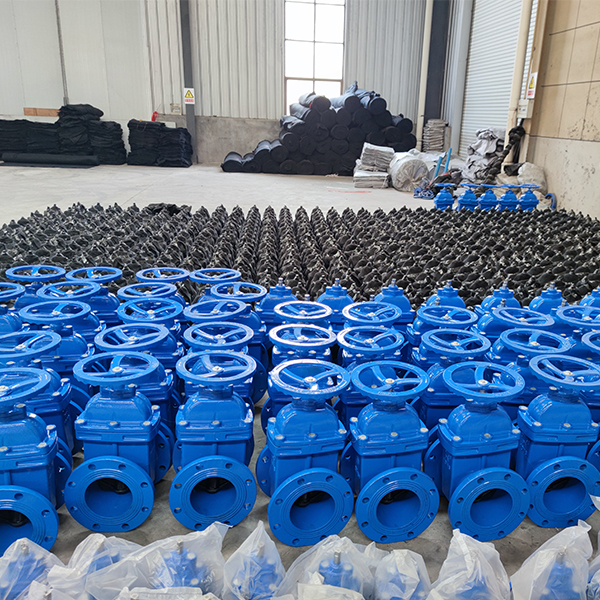 Product show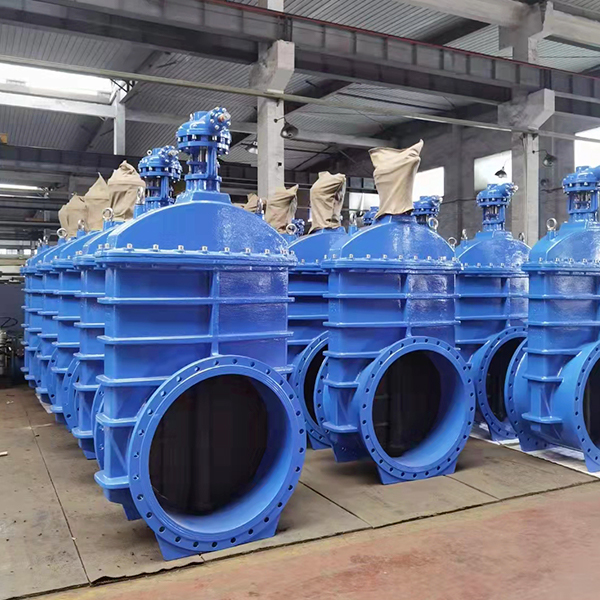 Workshop
Detailed parameters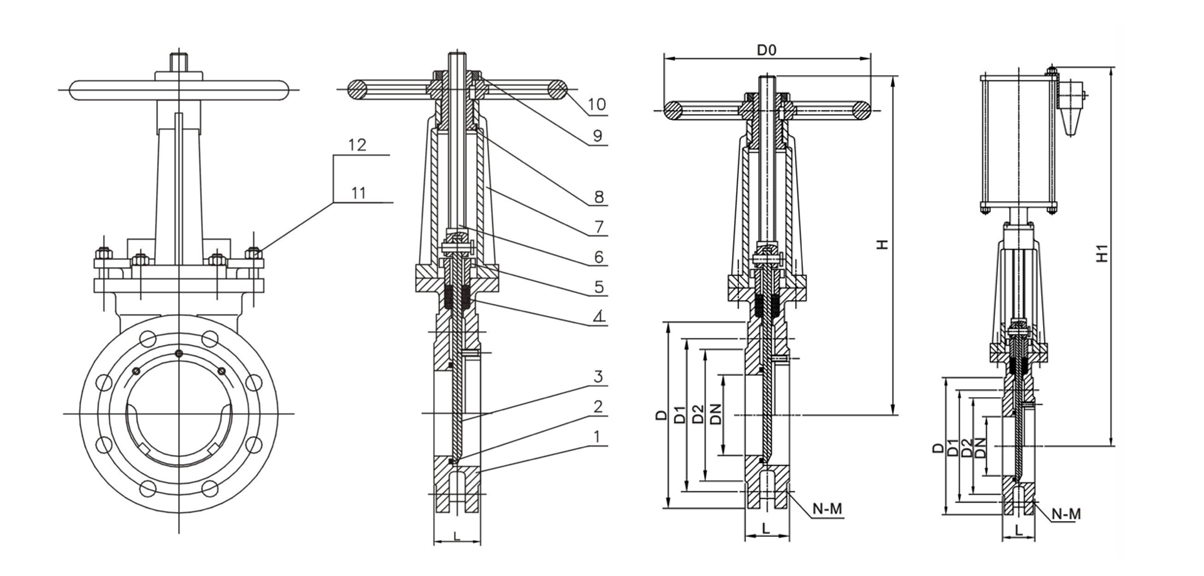 Nominal diameter
L
D
D1 
D2
 Flange hole
 Spindle bore
Inch 
mm
2″
50
48
152
120.5
92
4-W5/8
19
2 1/2″
65
48
178
139.5
105
4-W5/8
19
3″
80
51
190
152.5
127
4-W5/8
19
4″
100
51
229
190.5
157
8-W5/8
19
5″
125
57
254
216.5
186
8-W3/4
22
6″
150
57
279
241.5
216
8-W3/4
22
8″
200
70
343
298.5
270
8-W3/4
22
10″
250
70
406
362
324
12-W7/8
25
12″
300
76
483
432
384
12-W7/8
25
14″
350
76
533
476
413
12-W1
29
16″
400
89
597
539.5
470
16-W1
29
18″
450
89
635
578
533
16-W11/8
32
20″
500
114
698
635
584
20-W11/8
32
24″
600
114
813
749.5
692
20-W11/4
32
28″
700
117
927
863.6
800
28-W11/4
35
30″
750
117
984
914.4
857
28-W11/4
35
32″
800
130
1060
978
914.4
28-W11/2
41
36″
900
160
1168
1086
1022
32-W11/2
41

Advantages of pneumatic knife gate valve!
High reliability

The execution agency of the pneumatic knife gate valve is pneumatic element. It has the advantages of simple structure, easy operation,and

high reliability, and there is no electric spark during the opening and closing process of the valve, eliminating the hidden dangers of fire and

explosion.

W

Good control stability

Due to pneumatic knife gate valve can monitor the parameters such as flow, pressure, temperature, and control the stability better.

E

Long-distance control

The pneumatic knife gate valve can be used in conjunction with equipment such as the PLC control system and DCS digital control system to

achieve long -range automatic control.

S

Good anti-corrosion performance

The pneumatic knife gate valve can be selected for corrosion-resistant materials such as cast steel, stainless steel, and plastic to meet the

requirements for various corrosive media.

D

Wider range of applications

Due to the materials and structure of the pneumatic knife gate valve can be selected according to the characteristics of the medium and the use

scenarios, it is very suitable for the control of medium such as different treatment, corrosive, high pressure, high temperature, and low

temperature in some special working environments.

O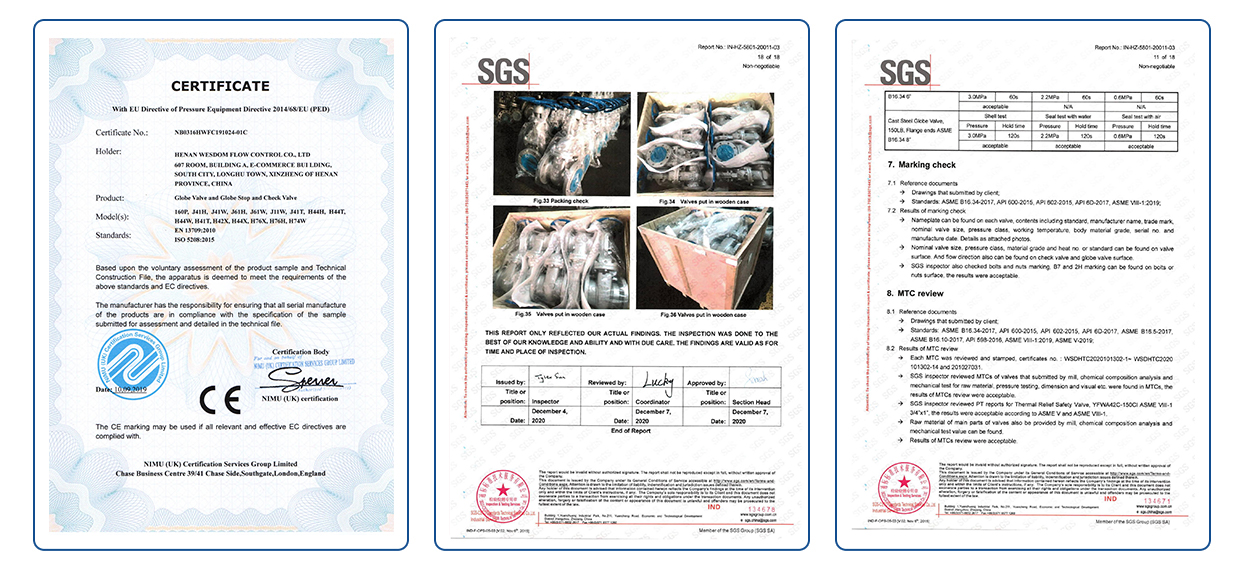 Project Name: Pakistan Cardboard Factory
Main Products: DIN SS316 seamless pipes, DIN SS316 fittings, DIN SS316 flanges, SS knife gate valves, SS316 ball valves
This customer is the owner of a cardboard factory in Pakistan. The factory needs a lot of pipe fittings and valves. He also compared more than a dozen valve companies online, and then was deeply moved by the professional expression and enthusiasm of the business personnel of the WESDOM international department in the final. And they choose to cooperate with WESDOM. Although it is the first time to cooperating with each other, the final customer also gave us a high evaluation, WESDOM is very good!
Project Pictures: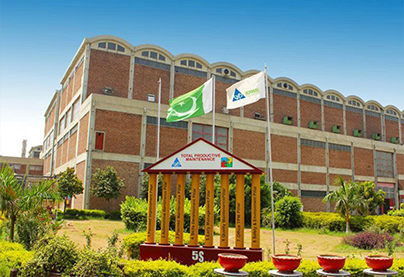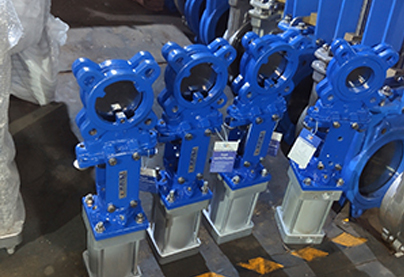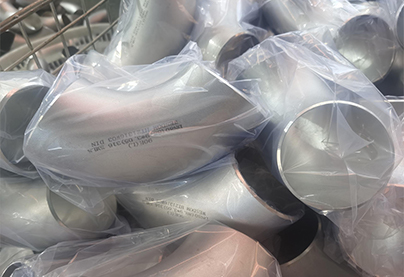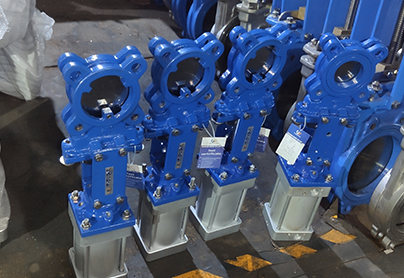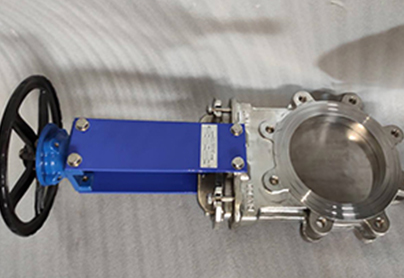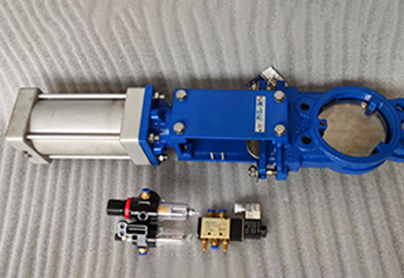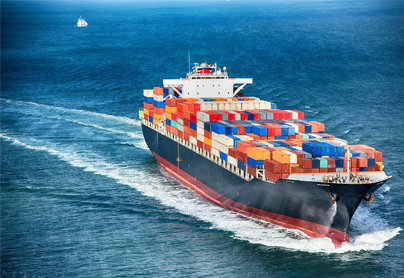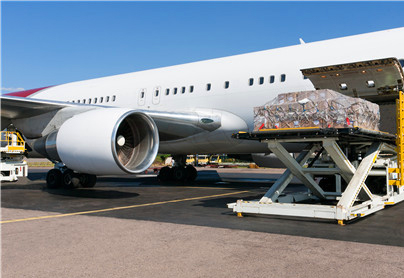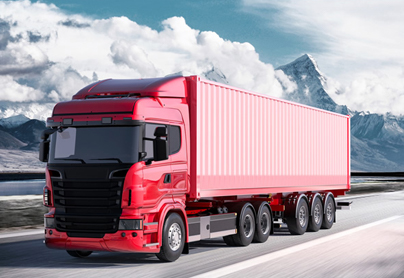 Inquiry
If you have any questions, feedback or comments, please fill out the form below and we will reply you back as soon as possible.